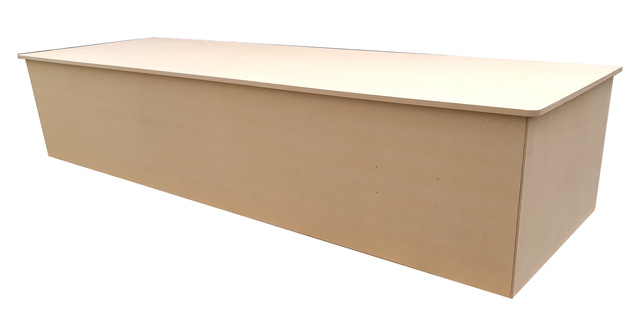 Designed for direct cremations only, where the deceased is transported directly from the undertaker to the crematorium and immediately cremated and is not in public view at any time.
Supplied as a flat pack.
1950 x 596 x 388mm (inside dimensions)
Direct Cremation Casket Size: 1950 x 596 x 388mm (inside dimensions)
The length of the coffin must be greater than the height of the deceased, plus an allowance of at least 5 cm and an extra allowance if shoes or a hat is to be worn.
The coffin width must be sufficient to accommodate the shoulders and hips of the deceased. The elbows usually are close to the hips and may end up slightly wider, they will be close to the apex of the coffin and the shoulders are about 30 Cm higher.
The height of the coffin is often determined by the size of the Puku (stomach). It is advisable to measure this with the person lying down, as gravity will cause a certain amount of sagging once the muscles relax. Don't forget that if someone is very ill, they will often lose weight before they pass.
Contact Details
Request More Information
Details of the product above will be automatically included with your enquiry.